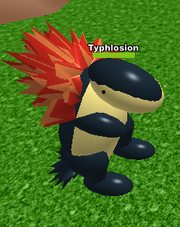 Typhlosion is the final evolution of Cyndaquil. It has base moves Scratch, Ember, and Flamethrower.
For those of you who dont know only five shiny typhlosion exist including Rukiryo and his four builders. Any others were obtained through exploits and are illegal players.
Typhlosion has Scratch, Ember, and Flamethrower by default. There was a glitch where it forgot Scratch when it evolved, but that has been fixed.
Ad blocker interference detected!
Wikia is a free-to-use site that makes money from advertising. We have a modified experience for viewers using ad blockers

Wikia is not accessible if you've made further modifications. Remove the custom ad blocker rule(s) and the page will load as expected.